6 Jan
How to get Medi-Cal to Pay For Your Nursing Home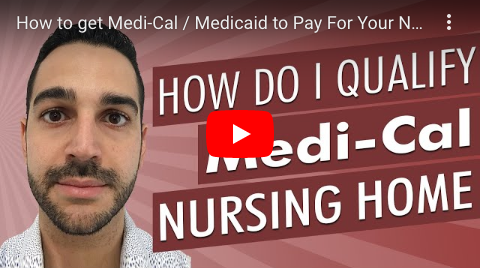 What are the rules in order for us to qualify for medical?  Why do we want to be qualified for medical? Well, if you are on Medi-Cal, the government could cover MOST of your nursing home care costs and fees. And if you're in an assisted living facility included in the Assisted Living Waiver (ALW) program, then those fees could be covered as well!
Well, how do I qualify? Do I have to be poor? The answer is no – a huge misconception!
Simply put, Medi-Cal doesn't count certain assets –- no matter the value! For example, Medi-Cal doesn't care about the house you reside in, even if it is worth $5 million and is in Beverly Hills.
One more time, you could have a house at any value. 
Just some of the other assets not counted by Medi-Cal can include a certain amount of cash (depending on your marital status and situation), burial plots, and some IRAs. 
In addition, Medi-Cal could turn a blind-eye for other assets. For instance, if an asset that is valuable can't be sold, Medi-Cal won't count it! There are also many of these unique situations. 
Here is the best part – even if you do not currently qualify, you can qualify by taking the right steps. These steps are what we call Medi-Cal planning. 
What are some things that are counted? Well, obviously money, money is counted. If you have a lot of money in the bank account that's going to be counted and may not qualify you. 
What about investment accounts? Depending on their title, they can be problematic. In addition, selling stocks and bonds in an investment account can result in capital gains. Well, how do you avoid all that? 
Medi-Cal Planning!
What about those people that say "No worries… I will just get rid of the asset by putting my children's (or others) name on the property. Yes, I will gift my assets so that I qualify for Medi-Cal!"

Not so fast, bucko! Medi-Cal knows you can do this. Medi-Cal will penalize you for years and you won't get any assistance depending on the amount you transferred! It's best to know the ins-and-outs of the laws of Medi-Cal before you attempt "Backyard Medi-Cal Planning".
Not only that but putting your children's name on the property while you are living can have horrible tax consequences and opens you to major liability. Don't do it!
You can schedule a 15-minute call with an attorney regarding the above issues here. 
If you prefer to have a full FREE 60-90 minute consultation, you will need to sign up for the Estate Planning Masterclass by clicking the below link.