8 Jan
Gifting Assets to Qualify for Medi-Cal – Good Idea?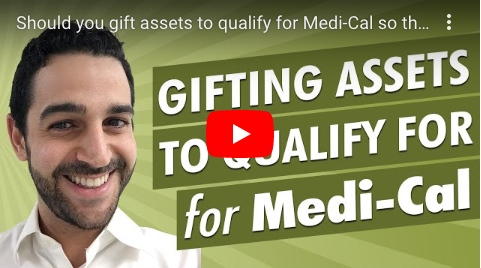 Should you transfer your assets in order to qualify for Medical or Medicaid? 
No. 
Don't try this at home without proper advice. 
Is there a proper way to do this? Yes. 
What happens if you gift assets to qualify for Medi-Cal Long Term Care improperly? 
You will get penalized depending on the amount you transferred. 
Medi-Cal wants to know what transfers you made (as a gift) for the last 30 months! There is legislation out that wants to increase it to 60 months! 
Each transfer can result in penalties assessed. 
If, for example, you transferred X amount of assets, it could result in a 20-month penalty. This penalty means that for 20 months, no matter what situation you are in, Medi-Cal will not pay a dime for your Nursing Home Care. 
It's very important to know not to do this without the proper advice. 
The correct way to go about this is Medi-Cal Planning with an attorney practicing in the field. 
You can schedule a 15-minute call with an attorney regarding the above issues here. 
If you prefer to have a full FREE 60-90 minute consultation, you will need to sign up for the Estate Planning Masterclass by clicking the below link.